THE HOUSE OF FREE FEELING
A House for Jimi Hendrix
Due January 15, 2023. For his 80th Year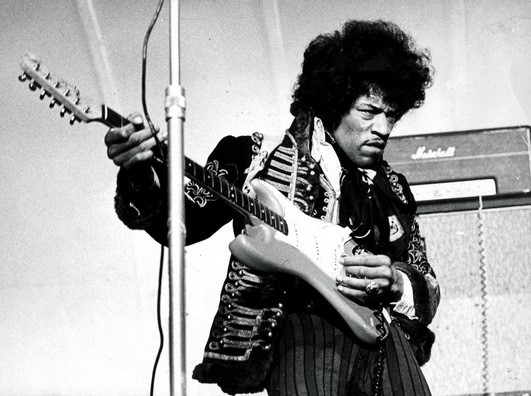 Jimi Hendrix at the amusement park Gröna Lund in Stockholm, Sweden, May 24, 1967; photograph believed to be by Olle Wester

'Yeah, well my arrows are made of desire
From far away as Jupiter's Sulphur mine
Say my arrows are made of desire, desire
From far away as Jupiter's Sulphur mines
Way down by the Methane Sea, yeah
I have a hummingbird and it hums so loud
You think you were losing your mind, hmm…'
Hey, Joe...
Hey anybody…
And how would life be possible, without passion ?
Unfortunately it does seem to be possible, for so many people.
But we invite you, now, towards PASSION.
Nothing else but passion.
PASSION, PASSION, PASSION.
Let's imagine A HOUSE FOR JIMI HENDRIX
For this eternally young man who transformed the guitar into a magical toy… and let's not be nostalgic.
Let's have vitality.
Let's bring the same energy into our buildings that Jimi brought to his music.
Let's dream and let's sing and let's build.
This year will be 80 years since Jimi was born.
Even if, for now, only through our imagination.
Didn't Picasso say that it took him four years to paint like Raphael and a lifetime to paint like a child ?
But the child is animated by that "free feeling" that Jimi Hendrix might have liked his music to be named,
although he resisted having his music labeled...

FREE FEELING


So how could we design A HOUSE FOR JIMI HENDRIX, THE HOUSE OF FREE FEELING ?

To attempt to move beyond our limits.
To be those "arrows of longing" Nietzsche invited us to be.
Are we up to the challenge ?
We only have to try.

A HOUSE FOR JIMI HENDRIX.
We are waiting to receive from you THE HOUSE OF FREE FEELING.

Jury

Ed Keller Chief of Jury [architect, guitarist]
Elliott Sharp [guitarist, composer]
Matias del Campo [architect, musician]
Sandy Ewen [guitarist, architect]
Ezio Blasetti & Danielle Willems [architects, coders]
Ben Goertzel [founder of SingularityNET, musician]
Dianne Krouse [musician, leader of Jam Galaxy project]
Carla Leitao [architect, writer]
Additional jury/symposium participants TBA

SUBMISSION AND PARTICIPATION
Music was Jimi's house. Sound was where Jimi gave birth to new universes.
Perhaps you are an architect, a musician, a sound designer, a filmmaker, you work with your hands, with instruments, with software, you collaborate with AI: we welcome you to imagine Jimi's house as a space, a sound, a gesture, a movement that can open a new universe.

We accept ANY WORK in ANY SIZE and ANY FORMAT that responds to the theme.

SCHEDULE
January 10, 2023: Register for Competition. Click Here.
January 15, 2023: Submission of Work. ICARCH posts Work Online.
February 2023: Zoom Symposium with Jury and Architects/Musicians/Filmmakers/Artists


BENEFITS

Engagement with alternative creators and thinkers in architecture worldwide
Zoom presentation of your work and dialogue in a symposium with others including jurors and special guests.
Work posted and archived on ICARCH.org.
Awarded entries posted to the Jam Galaxy multiverse.
Zoom dialogue archived on YouTube.
Inclusion of your name as a participant in international press releases from ICARCH.
Possible selection of your work for the 2023 ICARCH publication on 20 years of Competitions.


SPONSORS and COLLABORATIONS




'A House for Jimi Hendrix' will collaborate with Jam Galaxy & SingularityNET to upload awarded competition entries
to the Jam Galaxy multiverse in 2023. The competition will be published as well in the 'A House for…' series from ICARCH.


PRIZES
At the moment, ICARCH does not provide cash prizes nor require entry fees.
If you have any questions, please contact us at info@icarch.org
.
Thank you.

I C A R C H
.